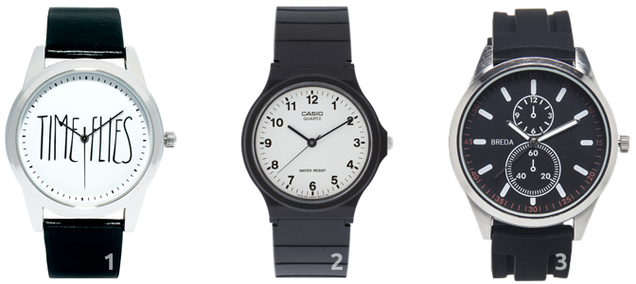 S
I'd be lying if I told you I wore a watch every day. I'd even be lying if I told you I regularly wore pants. Thats something Gifs of Jennifer Lawrence and I have in common.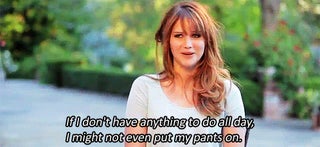 S
But when I'm dressing to impress I always wrap my wrist in something flashy or classy. Watches can be expensive though. I used to work for a magazine that advertised watches equal to my monthly income in price. We broke men may not be able to afford flashy silver bands and timepieces that look like they've been forged by elves but there is still hope.
Finding a classy watch under $30 just requires the right shopping skills. Knowing where to shop is clutch. Online stores like ASOS and JackThreads offer a solid curation of budgeted apparel and accessories. These are two of my favorite places to pick up watches on the cheap.
The first watch you own should be like your first suit. It should be simple, clean, and capable of matching anything. Here are three great watches to start your collection with, all within a reasonable price range.
1. River Island Time Flies Watch

The clean black leather and simple watch face won't make to loud of a statement but you can rest assured that you can wear it with most casual wear. Running at $17 and some change you can afford it. Make sure the playful typography fits your the look though. If you're heading to a wedding or business meeting strap on something classier or you'll get one of these looks...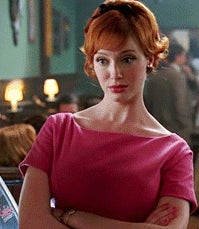 The last thing I want to do is offend Joan so lets look at some other options. Another casual and understated watch offered on Asos, The Mq-24-7 runs at just under $25 dollars is another solid contender for your first watch. Again, its a tad casual for anything formal but its still neutral enough to tie into most outfits.
This is the watch you want when you want to flaunt what you got with class for, again, only $25. The intricate yet simple face is an attention grabber. Though the silicon wrist strap doesn't shout 'expensive' you could easily replace the band with the River Island watch to clean it up. I used most of my watch faces and bands interchangeably, giving the appearance that I own way more watches than I actually do.
...